Donate
Your gift to the Robert J. Dole Institute of Politics can make a difference in the lives of people all over this country. Established in 1997, the Dole Institute is dedicated to fostering new thinking about major policy issues and working to encourage student and citizen involvement in public service.
The Dole Institute is recognized as one of the nation's leading bipartisan centers for the civil discussion of politics.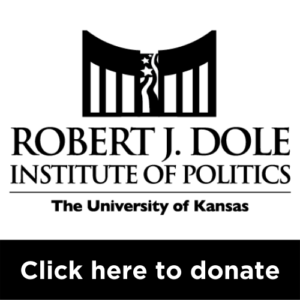 More than 10,000 people attend the Dole Institute's programs each year on topics of political interest including presidential campaigns, congressional service, the role of the media, globalization, climate change, genocide, and health care. The Dole Institute has brought to Kansas many prominent figures, including former Presidents Bill Clinton and George H.W. Bush, newscaster Tom Brokaw, former Green Party vice presidential candidate Winona LaDuke and former New York Mayor Rudolph Giuliani. The Dole Institute also is home to Senator Dole's extensive legislative archives, the largest collection of its kind.
Your contributions help to preserve Bob Dole's legacy by enabling the Dole Institute to expand and preserve programs, lecture series, archiving efforts and public service scholarships.